Colours make us happy! That is what we believe at Omalicha - In love with colours. Our clothes and accessories are inspired by the colourful, fascinating African fabrics, which make our products special and unique. Everything is made with love, in small quantities, we do not do mass production. We are also ready to create your own design, to discuss that, please send us an email!
The traditional african prints, or as they also call them, the ankara, are very popular and part of the everyday life in Africa.
Men and women wear them too, even pink is popular among both sexes. The fabrics are usually sold in 6 yards. Some are produced in Africa, some in Western Europe. Unfortunately lately some bad quality fabrics have also entered the market, so it is better to be careful while buying. The best fabrics are 100% cotton, and usually it is very hard to differenciate, which one is the front and which one is the back of the fabric, because both sides are very properly painted. Often they are waxed, which makes the fabric harder and gives it a nice shiny look.
The patterns are usually very colourful and they have meaning, they may contain traditional symbols also. These are some west african symbols. I hope you have recognized mine among them!
One of the most well-known fabrics in West Africa is the Kente from Ghana. The Kente is a woven cloth, made of strips. Every colour has a special meaning: 
black: maturation, intensified spiritual energy
blue: peacefulness, harmony and love
green: vegetation, planting, harvesting, growth, spiritual renewal
gold: royalty, wealth, high status, glory, spiritual purity
grey: healing and cleansing rituals; associated with ash
maroon: the color of mother earth; associated with healing
pink: associated with the female essence of life; a mild, gentle aspect of red
purple: associated with feminine aspects of life; usually worn by women
red: political and spiritual moods; bloodshed; sacrificial rites and death.
silver: serenity, purity, joy; associated with the moon
white: purification, sanctification rites and festive occasions
yellow: preciousness, royalty, wealth, fertility, beauty
My fabrics are usually well-known in Nigeria. Some of them have names and stories. I found some interesting stories on the website of Vlisco, which is a Dutch fabric producer company, they produce really nice and good quality materials.
This fabric for example comes in many colour combinations. You would think that it has a nice romantic name like Peacock or something, but no. It got the less elegant Electric Bulbs name :)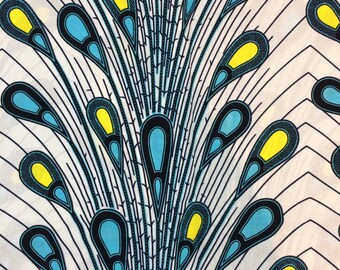 Another fabric that has a funny story is this one: 
They say the pattern represents an angry woman lying in bed, turning away from her husband. The husband is begging her to forgive him and turn to him. Sweet story, is it not?